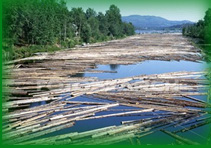 GLLCA 2024 Conference

41 YEARS!!


May 17-18, 2024
Location to be determined

Mission Statement
The GLLCA is an organization of professional log builders and others interested in the art of handcrafting log structures. "PROMOTING EXCELLENCE IN THE HANDCRAFTED TRADITION."
GLLCA ANNUAL MEETING & CONFERENCE 2024
If you weren't able to attend this year's GLLCA 40th Anniversary Conference, you missed a great time. We had 18 attendees and everyone enjoyed the dove tail workshop, the other presentations on Air sealing in log homes, Common issues to avoid in doing Restoration, installation of doors & Windows & Groove Air Leakage, and media blasting demonstrations. Also lots of tool tech conversations.
click here for more details
Mark the following dates on your calendar for the 2024 Great Lakes Log Crafters Association's Annual General Meeting and Conference. The dates are

Friday, May 17th, and Saturday, May 18th, 2024.

The conference location is TBD...
click here for details and UPDATED SCHEDULE.

Conference Schedule & Annual General Meeting Agenda...UPDATED - click here
click here for 2018 Conference pictures

Our 40th Year Great Lakes Log Crafters Association Annual General Meeting and Conference, 2023, was a success! Being in existence for 40 years says a lot for a group log home builders that love what they do. 40 years of getting together to exchange ideas, shareing jigs and tools that make the job easier and wanting to build log homes that will last for 100s of years.